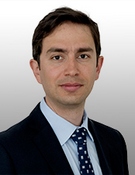 Practice
Dimitar Ivanov's areas of expertise include commercial and corporate law
law of contract
labour law
M&A
securities and capital markets transactions
tax law
etc.
Professional experience
Dimitar Ivanov is an attorney-at-law and a member of the Sofia Bar since 2007. Before joining Dimitrov Ivanov & Partners as the law firm's co-founder, he worked as legal counsel for Tsvetkova Bebov & Partners (Landwell) – the Bulgarian affiliated legal practice of PricewaterhouseCoopers (2003 – 2008) where he specialised primarily in corporate, commercial and securities law. In 2008 Dimitar Ivanov joined Dimitrov Tchompalov & Todorova – a boutique law firm specialising in the area of securities and corporate law – as a senior associate (2008 – 2009). There, he was involved in various corporate and commercial transactions and capital markets projects, including corporate restructurings, public offerings and private placements of securities, etc.
Education
Dimitar Ivanov holds a master's degree in law from the Sofia University St. Kliment Ohridski.
Certificates
In 2010 he passed Level I of the CFA examination.